MCP (Microsoft Certified Professionals) mají možnost si zakoupit takzvanou "Wallet Card". Chtěl jsem vyzkoušet, jak to vypadá a fungujem, a včera mi přišla, tak se na ni podívejme…
Wallet Card je plastová kartička připomínající platební kartu a není určena k rozdávání (dokonce si nemůžete objednat více než jednu). Ani na ní není mnoho informací (zvolit si můžete jen logo certifikace, fotografii a dodatečné certifikace na zadní straně):
Vtip je v tom barevném kódu na zadní straně. Ten je totiž možné naskenovat pomocí fotoaparátu v mobilnímu telefonu a získat tak odkaz na virtuální vizitku.
Na zadní straně Wallet Card je odkaz na stránku gettag.mobi, která automaticky rozpozná typ telefonu a nabídne instalaci patřičné verze aplikace. Když pak narazíte na nějakou Wallet Card, spustíte aplikaci a stisknete "scan":
zaměříte barevný kód na Wallet Card: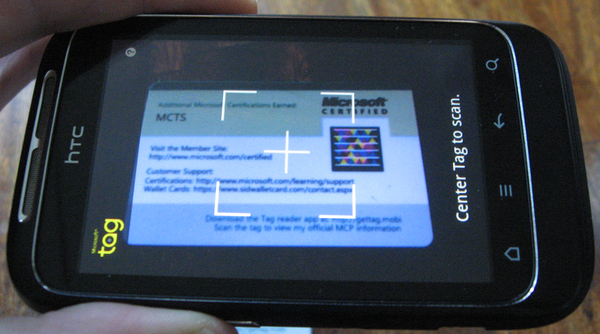 a jakmile ho aplikace rozpozná, zobrazí virtuální vizitku:
Aby to celé fungovalo, musíte být připojeni k internetu a mít vytvořenou virtuální vizitku, nastavenou pro použití s Microsoft Tagem:
Jak na správu virtuálních vizitek, tak k objednání Wallet Card se dostanete z mcp.microsoft.com (v sekci Promote Yourself).
Wallet Card vyjde na necelých devět amerických dolarů a mně do Dánska dorazila zhruba za čtrnáct dnů. Nemyslím si, že je nějak zvlášť užitečná, ale je to celé udělané hezky a mohla by s tím být legrace na konferencích. 🙂