MCPs (Microsoft Certified Professionals) can order so called "Wallet Card". I wanted to test how it looks and works and the card arrived yesterday, so let's take a look at it…
Wallet Card is a plastic card resembling a credit card and it's not intended for giving away (you even can't order more than one). It also doesn't contain too much information (you can choose nothing more than a certification logo, a photo and additional certifications on the back side):
The point is the color code on the back side. You can scan it by a camera in a mobile phone and get a link to a virtual business card.
On the back side of Wallet Card is a link to gettag.mobi page, which automatically recognizes the type of your phone and offers a proper application version to install. When you come across a Wallet Card then, just run the application and press "scan":
focus on the color code on Wallet Card: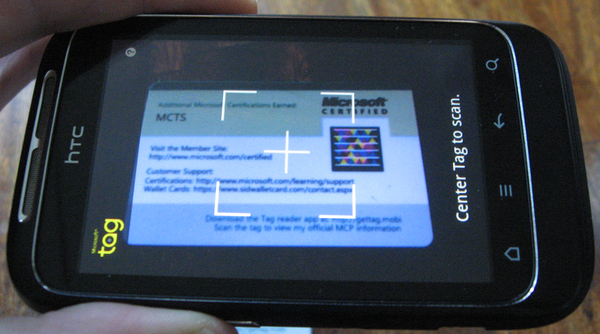 and when the application recognizes the code, a virtual business card is shown:
To get it work, you have to be connected to internet and to have a virtual business card configured for using with Microsoft Tag:
Both virtual business card management and Wallet Card ordering can be accessed from mcp.microsoft.com (in Promote Yourself section).
Wallet Card costs just under nine US dollars and mine arrived to Denmark roughly in a fortnight. I don't think it's too useful but it's all done very nicely and we could have fun with it on conferences. 🙂